Extreme Satisfaction – Ageplay – Roleplay – MILF – Domination – No Taboos – Guaranteed!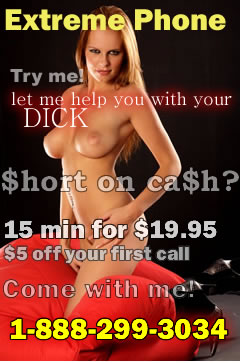 Hi, my name is Mindy, and I have put together the best selection of beautiful, sexy and HORNY women, all eager to have phone sex with you and get to know you… intimately.
These lusty ladies have been selected for their beauty, their attitude in life, and their undying love of and need for SEX. Some are single young women or students eager to satisfy their very high sex drives; others are housewives in search of that extra spice… All of them, though, have one thing in common…
They all absolutely, positively, unequivocally loooove sex… phone sex… all sex… all kinds of sex… all for sex itself!
But let's face it… society does not look very kindly upon people who have fornication on their minds 24/7 (If it were up to me, people would be having sex on the streets, at every corner…). For our Girls, phone sex is the ideal media through which they can explore their own sexual drive, whilst earning a living.
For you, it is the next best thing to the real thing…and it is a whole lot safer!
In this business, "competitors" cum and go <wink>, and as a webmistress involved in the phone sex industry, I make it my business to keep an eye on what they do.
I have spent hours visiting their sites, making phone calls to operators supposed to be online, and not being able to get them on the phone!
You are welcome to check them out… call them… find out how expensive they can be.
Then, I invite you to relax, take your big juicy cock out… pick up the phone and call us… and get ready for a mind-blowing experience and the best phone sex ever.
In the meantime, how about wetting your appetite about our latest forbidden incest fantasy involving a mature woman having sex and then let's talk about it in a phone sex conversation.
Yes, we are THAT good…
Enjoy it… and see you back soon!
Mindy
Phone sex: What about cost?
In the United States and Canada:

  Telephone: 1-888-299-3034   

Cost

– 10 minutes: $14.95- 15 minutes: $19.95(first time callers, take $5 off on your 1st 15 minute call
In the UK:

 Telephone: 0983-939-2210 X 1351
Cost

– £1.50 per minute(UK Phone Sex Customer Service: 0844 888850)